Introduction to the campsite
Located in the Auvergne Volcanoes Park at an altitude of 870 metres, on the edge of Lake Chambon and at the foot of the Sancy Massif, Yelloh! Village Le Pré Bas★★★★★ is the ideal place for a stay combining the pleasures of water and the mountains. In addition to a covered and heated aquatic area, a children's area and a spa and balneotherapy area, you will find a wide choice of activities. 600 km of marked trails, on foot or by mountain bike, Château de Murol, Lemptegy volcano, Vulcania and the Puys range, listed as a UNESCO heritage site… And of course, you can discover excellent Auvergne products!
In the heart of Auvergne
discover a beautiful region
Yelloh! Village Le Pré Bas for you will be synonymous with nature, the great outdoors and a change of scenery: with its volcanoes, lakes and countless hiking trails, you can experience a holiday full of greenery!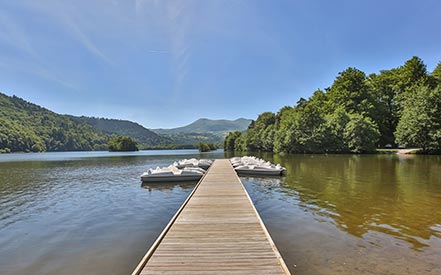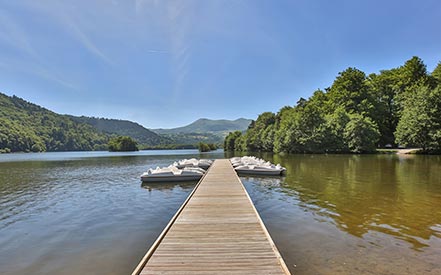 Ideally located for exploring the various facets of the land of volcanoes, Pré Bas offers you privileged access to a natural lake, resulting from the eruption of the Tartaret volcano: welcome to Lake Chambon!
The tour of Lake Chambon is, without a doubt, THE walk to do with your family during your stay. A short hour's walk that lets you enjoy a pleasant breath of fresh air. A very simple path allows you to follow the shore of the lake, with a few sections on stilts which only add to its charm.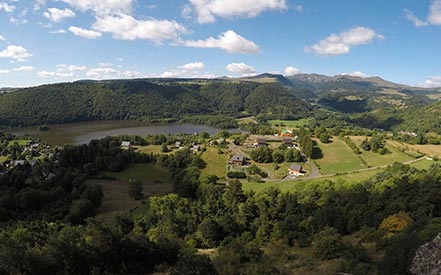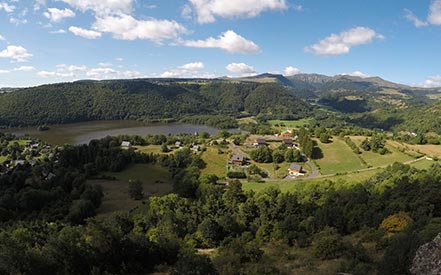 A holiday in the Massif Central is ideal for green tourism; lovers of nature and the great outdoors will be delighted. With its high plateaus and reliefs, it's the ideal destination for hiking…
in the heart of nature. And with the range of outdoor activities on offer, you'll have a blast! Whether it's cross-country and downhill skiing, or the many white water sports such as canoeing and kayaking, or paragliding…
You'll discover an exceptional region where you won't risk running short of activities.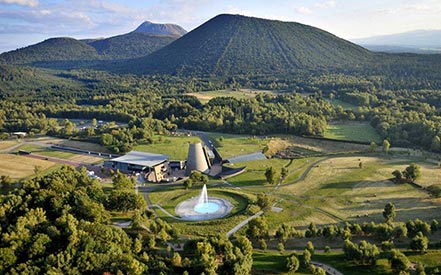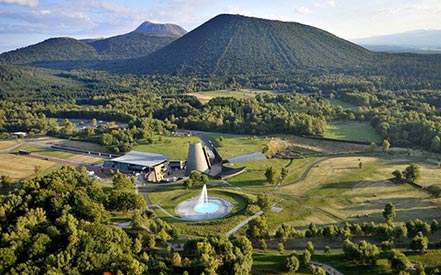 During your holidays, take a break at the Vulcania amusement park! You'll learn all about how volcanoes are formed, and you can even travel to the bowels of the earth! Located less than 40 km from
your campsite, this amusement park is the ideal place for a family day out. Its attractions, based around the theme of volcanic activity, let you discover this fascinating and impressive world. Thrills, scientific experiments, interactive films… There's something for everyone!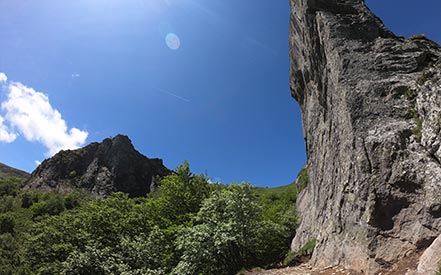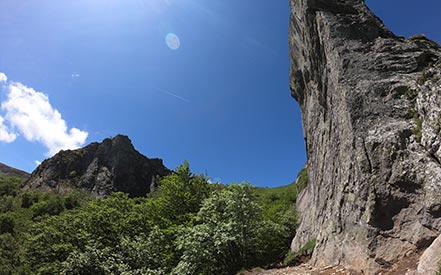 Don't miss it! Have you ever visited the Chaudefour Valley? Located in the heart of the Massif du Sancy, this magnificent glacial valley created 600,000 years ago offers breathtaking protected fauna and flora.
Steep rocks, rocky spires, waterfalls, streams, hot or ferruginous springs, (…) reliefs that make it one of the most beautiful valleys. Lake Chambon is nourished by the magic of nature itself.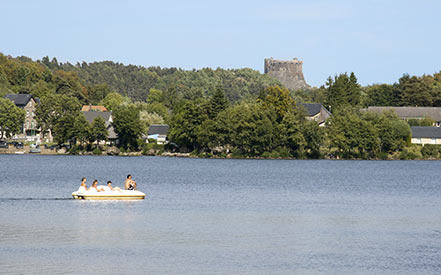 We have named you Chevalier! A must-see in our beautiful region, the Château de Murol! Culminating at an altitude of 1000 metres above sea level, located less than 5 minutes from the campsite, it's
the most visited castle in Auvergne Rhône Alpes! Through scenes immersing you in the daily life of Lord William in the Middle Ages and thanks to costumed performers and real horsemen, travel through time and set off to conquer the jewel of the Puy de Dôme! Finally, enjoy an exceptional panorama of the Massif du Sancy!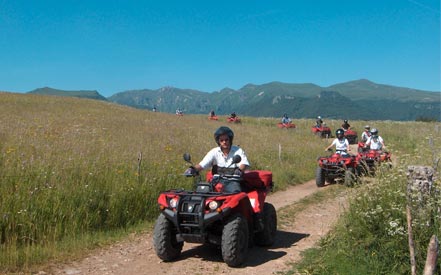 Eager for thrills or unusual activities? You've found your destination!
Quad rides with Bob, a descent of the Massif du Sancy by zip line with Fantasticable…
an adventure park in the mountains featuring a rope bridge, via ferrata and suspension bridges, a ride on a scooter or electric mountain bike through the volcanoes, the opportunity to feed the wild animals of the Auvergne Animal Park, a paragliding flight above the Chaîne des Puys, a UNESCO World Heritage Site… Here's a sample of the range of activities to discover during your stay at Yelloh! Village Le Pré Bas!
Are you planning your weeklong holiday, or still wondering if this is the right destination? Discover our local partners we work with to bring you the richness of our region, and you won't know which way to turn!
Yelloh! Village Le Pré Bas is a family campsite, located on the shores of Lake Chambon since 1963. From about twenty bare pitches around a cow trough to the installation of 120 cottages, 60 bare pitches and multiple facilities like the swimming pool, history has been created.
1963 : Creation of Le Pré Bas campsite by Henri Crégut, with a few bare pitches, Turkish-style toilets and above all: a cow trough!
1968 : Le Pré Bas earns its first star!
1971 : Henri passes the torch to his sons, François and Jean-Louis, who take over the management of the campsite.
1976 :  A new stage: the campsite is awarded 2nd and 3rd star status thanks to its many facilities, including 110 bare pitches.
1992 : Year of the creation of a snack bar and the installation of ten mobile homes. Le Pré Bas already has 180 pitches.
1995 : Major infrastructure work begins! This year, colossal work was carried out to create a swimming pool, then a paddling pool, and finally slides in 2002.
2003 : Sylvain joins his parents, Jean-Louis and Josette; the campsite currently has 50 mobile homes.
2007/2008 : Le Pré Bas campsite's classification obtains a 4th star! To achieve this, the campsite has invested in creating a space dedicated to relaxation and children: the Family Center.
2009 : Sylvain takes over management together with his father, Jean-Louis.
2012 : An important new feature is built this year, one you know well… the Splashpad! A magnificent aquatic playground that delights young and old alike!
2013 : We celebrate 50 years of Le Pré Bas! For the occasion, the snack bar disappears to make way for the creation of a new restaurant on the waterfront: Bar Brasserie Le 50.
2014 :  The campsite joins the large Yelloh! Village group.
2017 : Perhaps the biggest investment made to date: the creation of a brand new covered and heated aquatic area. That same year, Le Pré Bas sets up a grocery store in the heart of the village, a balneotherapy pool, a solarium, and now has 120 cottages.
2018 : After a meticulous audit, Le Pré Bas successfully earns its 5th star!
2019 : Creation of a more luxurious, more comfortable area, with even more modern cottages… Welcome to the new Premium district!
2019 : Creation of a new Premium district, a playground, and a new 3-flower model, the "Pavin".