Lake Chambon is THE bathing resort of the Sancy massif. A place for relaxation, lazing around or family activities, you'll appreciate the great breath of fresh air offered by nature.
Do you know how Lake Chambon was created? Once upon a time there was a volcano, the Tartaret. Legend has it that it awoke 10,000 years ago, and thanks to its volcanic flow the lake was created. Its eruption blocked the course of the mountain stream, the Couze de Chaudefour, and created this magnificent natural lake.
SUGGESTED WALK
A walk of about an hour takes you around the lake. Go along the water's edge and follow the yellow markings. An easy and family-friendly route, which can be travelled by bike since a cycle path has been created: the green lane.
Around Le Pré Bas, there are over 600 km of marked trails to explore alone, with family or with friends!
Where is it essential to visit during your stay? Located in the heart of the Massif du Sancy, the Chaudefour Valley nature reserve is certainly a favourite with young and old alike. Steep rock faces, rocky spires, waterfalls, streams, ferruginous springs… Reliefs that make it one of the most beautiful valleys! Lake Chambon is fed by the magic of nature itself!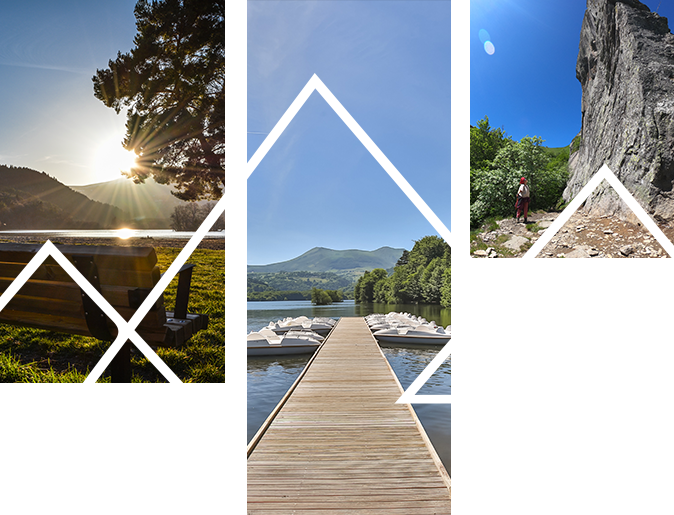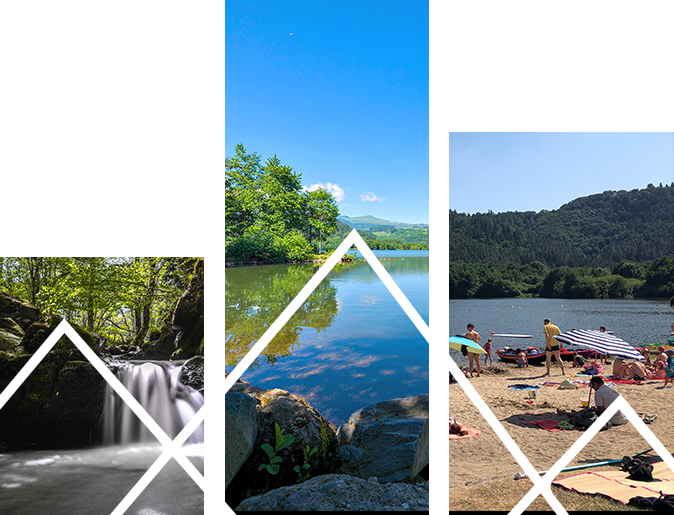 In Murol, a pretty medieval village less than 2 km from the campsite, you'll have the opportunity to visit the fortress of Murol. Overlooking the village from its volcanic peak, the Château de Murol is an exceptional site; a fun place to visit with a magnificent view of the lake.
With 8 listed buildings, the medieval town of Besse is certainly the most atypical village in the region. Narrow cobbled streets, pretty stone houses with red shutters, fountains full of flowers, charming little shops: this is a beautiful journey into the Middle Ages!
SUGGESTED OUTING
Combine the traditional Monday morning market, the one in Besse being the biggest of the season, with a short tour along the side of Lake Pavin. With its turquoise water, iconic due to its mysteries and legends, Lake Pavin is also a must-see during your stay in the Puy-de-Dôme.
A Murol, un joli village médiéval à moins de 2km du camping, vous aurez l'opportunité de visiter la forteresse de Murol. Dominant le village sur son piton volcanique, le château de Murol est un site d'exception qui propose une visite ludique avec une magnifique vue sur le lac.
Comptant 8 bâtiments classés au titre des Monuments Historique, la cité médiévale de Besse est certainement le village le plus atypique de la région. Des ruelles étroites et pavées, de jolies demeures en pierre aux volets rouges, des fontaines fleuries, des petits commerces remplis de charme, c'est là un beau voyage dans le Moyen-âge !
IDÉE DE SORTIE
Combinez le traditionnel marché du lundi matin, celui de Besse étant le plus généreux de la saison, avec un petit tour du côté du lac Pavin. Eau turquoise, emblématique par ses mystères et légendes, le lac Pavin est aussi un incontournable lors de votre séjour dans le Puy-de-Dôme.