A campsite without fun in the water, without a swimming pool, is a bit like a stay in Auvergne without tasting Saint-Nectaire cheese, or without climbing the Puy de Sancy. Hit the big Pentagliss slides, relax in the hot tubs, play ball games in our large heated indoor pool… Enjoy your holiday at Yelloh! Village Le Pré Bas with your feet in the water!
SWIMMING POOL
A place of both leisure and relaxation, the bathing area, with a large swimming pool and a paddling pool for the little ones, offers a true change of pace for the whole family. You have the option of sunbathing around the pool or on the solarium. ​Throughout the season, enjoy this little corner of paradise in the heart of Yelloh! Village Le Pré Bas.
Time to warm up – our entertainment team also offers aquagym sessions!
THE MOST
• Water temperature: 28 to 32 °C
• Heated pool from April to October
• Free
• Pool reserved for Pré Bas holidaymakers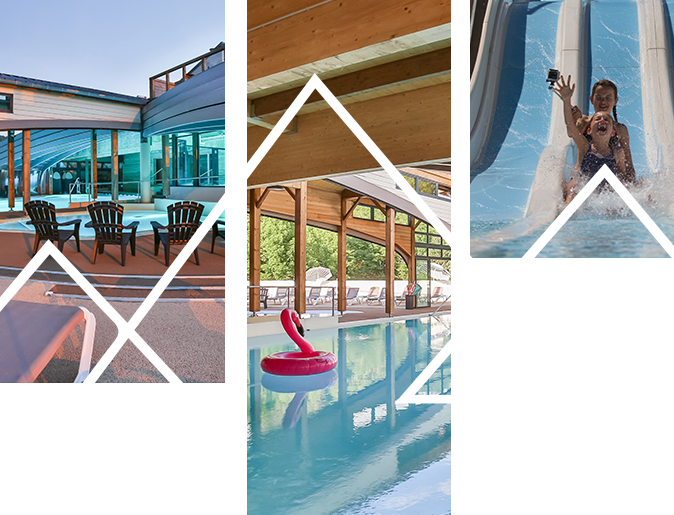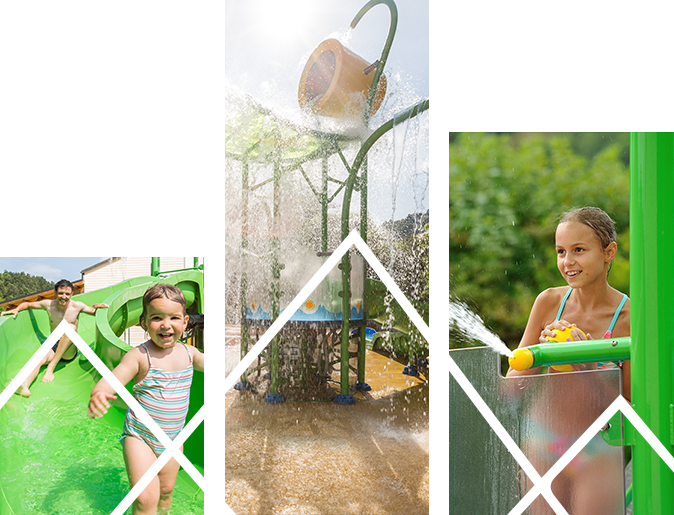 SPLASHPAD
It's a joy for young and old alike: welcome to the Splashpad! Geysers, an upturning bucket, a slide that takes you under the spray, a palm tree sprinkler, and multiple jets to surprise the whole family! An amazing relaxation area, with zero depth to give the little ones safety and the parents peace of mind.
SLIDES
For the more daring, count to 3 and… Jump! The Pentagliss is exciting for the whole family, and that's also what the camping spirit is all about: having fun!
At the end of these big slides, meet Pipo the clown, friendly and quite the prankster!
SPLASHPAD
Il fait le bonheur des petits et grands, bienvenue au Splashpad ! Des geysers, un seau renversant, un toboggan qui vous fera peut-être passer entre les gouttes, un palmier arroseur, et de multiples jets qui surprendront toute la famille ! Un incroyable espace de détente, avec zéro profondeur pour la sécurité des plus petits et le bonheur des parents.
TOBOGGANS
Pour les plus intrépides, comptez jusqu'à 3 et… Sautez ! Le Pentagliss fait la joie de toute la famille, et c'est aussi ça l'esprit camping : S'amuser !
Au bout de ces grands toboggans, partez à la rencontre de Pipo le clown, sympathique et très farceur